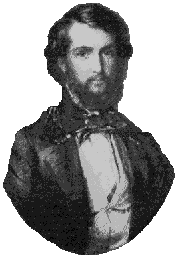 This 1872 novella/short story by Joseph Sheridan Le Fanu was originally published in his collection of stories, "In a Glass Darkly". One of the most significant tales in vampire genre literature, "Carmilla" influenced other writers, notably [Bram Stoker], the author of "Dracula"(1897). He also influenced the development of the ghost story.

Le Fanu (August 28, 1814 - February 7, 1873) was an Irish writer, descended from an old Huguenot family, and grandnephew to English dramatist and politician Richard Brinsley Sheridan. He received his education at Trinity College, and was an editor of more than one paper. Some of his work was published anonymously in the Dublin University Magazine.

He wrote fourteen novels from 1845 to 1873, such as "The House by the Churchyard" (1863) and Uncle Silas (1864).

Bram Stoker wasn't the only writer to admire his work. M.R. James called him the "Master".